Ideal filters for food, beverage, and pharmaceutical process
To ensure you receive the filter right for your requirements we:
Take the time to consult with you to thoroughly understand your project.
Analyze your application to provide a custom engineered filter specific to your needs.
Provide a cost effective long lasting solution you will be able to use for the entire life of the unit.
Guaranteed – because of our high quality material and segmented disc housing, you never need to worry about element warping due to heat or pressure!
MicroPure Segmented Filters sandwich self-sealing filter media between specially designed segments of stainless steel, clamped securely by a stainless steel tension rod connecting the end segments to form the cartridge.
What this means for you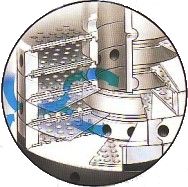 Air/gas or liquid flows into openings in the outside of a segment and passes through the filter medium into an adjacent segment which then exits through openings at the center of the cartridge and out of the filter housing.
The number of segments and the type of filter medium used in each Segmented Filter are customized for your application.
Throughput can be significantly increased by adding segments and filter media.
Unlike conventional filter cartridges, the two-way MicroPure design provides equal support for the filter media in both directions so you can reverse the flow if your application requires.
Micropure Filtration uses
Articles of Interest:
Distributor: