Sterile Vents for Tank Farming
The Client: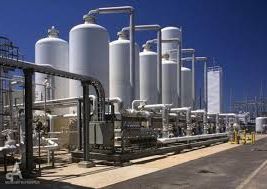 An American multinational consumer products company focused on the production, distribution and provision of household, health care and personal products. The client is building a new production facility in the south east United States.
The Problem:
The client has a large tank farm as a part of its new facility. There are also multiple holding tanks in the process lines. For the entire facility, there over 75 tanks. There were several major concerns when the client was deciding which tank vent filters to use for this project.
The first was filter life. There was a concern about the filter absorbing liquid and not preforming as well because of the temperature and humidity level in the tanks.
The second concern is operational cost. The client does not want to have a large portion of the operation budget going to filter replacements for their tank vents. Replacement interval and cost were part of this concern.
The last concern was the pressure drop at installation and throughout the life of the filter until replacement was needed.
The Process:
The Engineers at Micropure reviewed the application parameters of each tank going into the new facility and the liquids that would be flowing through the tanks. Micropure took into account the concerns of the client had about the tank vent filters. Micropure put together a proposal for a sterile tank vent filter for each tank that could allow the tank to breathe while ensuring the air entering the tank would be sterile and clean.
The Solution: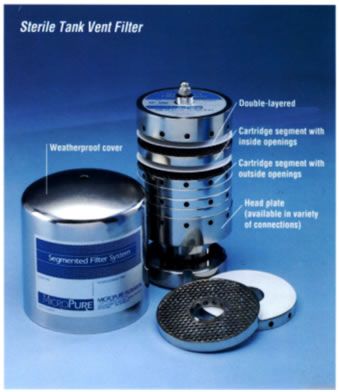 Micropure's segmented design in its sterile tank vent filters and its high quality media were the solution to all three of the clients concerns. The media installed in the tank vent is hydrophobic, not allowing it to not absorb any liquid or humidity from the tank's content. Any condensation from the humidity would be wicked away and not affect the filter effectiveness. The Segmented design allows each media piece to work independently giving the filter a long life prior to a change out being needed. This media independence allows for a low PSID at installation as well as throughout the entire life of the filter.
Micropure's Engineers were able to provide them with flow & PSID charts to show what the PSID would be at installation as well as throughout the life of the filter. This technical information allows the client to better plan their replacement intervals. There are two factors that lead to the extremely low operational cost of the sterile tank vent filters. They are the long Life of the filter media how little you replace. In a typical vent filter (from a competitor) you have to throw away and replace the entire Cartridge. Micropure's segmented design allows you to only replace the media pieces. These two factors cut the clients replacement costs by over 65%.
Read More Case Studies Here