Finite Breathing Air Purifiers
Dual-Stage Compressed Air Filters - BA-Series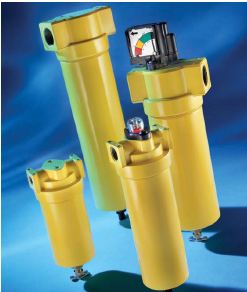 BA-Series filters are designed to be used as point-of-use breathing air filters. This combination unit contains both a fine grade coalescing filter element and an activated carbon vapor removal element.
BA-Series filters may also be used in applications requiring compressed air to be free of odor or taste-bearing hydrocarbons. Food/beverage applications are an Example of where compressed air comes in contact with the product. The BA-Series can also be used as a prefilter for critical needs such as zero air generators, membrane filters and many others!
Replacement elements are supplied in convenient repair kits which include one coalescing element, two activated carbon adsorber elements, and replacement seals. Two adsorber elements are supplied because the stage one coalescer will routinely outlive the extremely sensitive second stage adsorber element.
For severe applications with Excessive solid and liquid contaminants, the BA-Series should be preceded by Finite® H-Series (Bulletin 1300-993/USA) pre-coalescer or interceptor filters.
Finite® also supplies pressure regulators which can be used downstream of the BA-Series to lower system operating pressures to desired levels for breathing air applications. Please refer to Finite® bulletin 1300-703-3/USA.
BA - Series Offers...

Typical Applications

Connection sizes: 1/4" - 1" NPT
Flows: Up to 75 SCFM (128 m3/hr)
Maximum Pressure: 500 PSIG (34 bar)
Maximum Temperature: 175° F (79° C)
Drain Port: 1/8" NPT with standard manual drain (float drain available)

Industrial Breathing Air
Aircraft Cabin Air
Zero Air Generator Prefilter
Instrument Air
Food Processing/Packaging
Membrane Prefiltration
Instrument Air Dryer Prefilter
Use any compressor with aftercooler and refrigerated dryer. Air intended for use as industrial breathing air and in decompression chambers.

CAUTION: Always use high temperature synthetic lubricants and monitor (alarm) for carbon monoxide concentrations exceeding established Maximum recommended levels. This system will not eliminate toxic gases!

OTHER SPECS MET: O.S.H.A. 29CFR 1910.134
How it works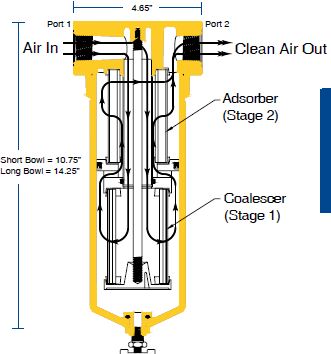 Compressed air enters port: 1 of the housing and is directed down a hollow chamber into the firststage coalescing element (bottom). Oil, water and solid contaminant is removed with a 99.97% or higher efficiency as the air flows from the inside of the element to the outside. The coalesced liquid drains off the element into the bowl where it is removed either manually, or by an automatic float drain. The oil-free air then is redirected upwards to the inside of the adsorber element (top) by means of a non-bypassing separation device. The second stage's activated carbon element collects hydrocarbon vapors as the air flows from the inside to the outside of the element. The purified air then exits through port 2 of the housing.
Note: This product does not remove toxic gases from the air stream. A carbon monoxide monitor is recommended.